Posts Tagged 'belief'
If what I now write has atheists and devout belivers criticising this blog then I will have achieved what I set out to do. Which is to take both viewpoints outside the comfort zones of the holders.
That how right you believe your view to be is not a reason to hold others to your belief.
Even though atheism is not based on fantasy, or at least on super natural power, this does not mean that we can enforce those views on others.
What we can do is assess the actions that are a consequence of the thought. We need more than a correlation – we need causation, that the belief leads to the act.
As much as we may not wish to phrase it otherwise, atheism is a belief. We may argue that we have better data leading to the conclusion. However we cannot claim it as a fact – otherwise we do exactly what creationists do when they say evolution is only a theory. We cannot debase language by our emotion or force of conviction.
The belief that Jesus was born on 25 December does not hurt me. That it may be celebrated with a tree and tacky decorations is none of my business. The consequence of the belief does not cause harm.
Howver, when I ask you to look at the evidence that the early Christians focused on Jesus' death not birth. Save for Matthew whose writings appealed to the Greek epic of omens fortelling deity. That the date chosen for commeration is more about pagan significance and convience than historical accuracy.
Faith is not a free ride. You may tell me that your partner is beautiful and your children smart. You are entitled to that view, however I shall choose the opinion that is independent of yours. Do not hold me to your view publicly – it may get ugly.
The above analogy is appropiate because people may feel comforted in their belief of their family as they do about their faith. I suspect though that we all know a family whose belief in their virtues is liable to loose it's gloss with the disinfectant of scrutiny.
Maybe hands off would be polite. Certainly well mannered if we do not want an argument. Thing is that in the world of competiting faiths is like drunken husbands fighting over whose wife is most virtuous, while the wives prepare their children to dominate the future.
We cannot argue that if Dawkins and co would only shut up then an uneasy ceasefire may exist. Such is the power of thought and to silence is to deny who we are. Thinking animals moved to action based on thought. Not necessarily rationally based but the pack should be allowed to rip the bad ones to pieces for the survival of the best ideas.
So trump card – tolerance of thought. The limits are where the actions of those thoughts lead to consequences against the thoughts of others. Censorship being one, styfling debate another.
The more I see Hitchens debate Rabbis and others makes me think of Douglas Adams and the philosophers arguing about the computer giving answers to philosohical debates. Deep Thought responds that the wait for such answers can set them on the gravy train for life as long as they could vemenently disagree with each other.
The truth is the undiscovered country, but while some become rich on the journey we all benefit from the experience. The sparring, and the friction may lead to ugly moments.
Freedom of thought, the plurality of ideas is important if we want to discover answers. You have to accept that, as in Deep Thoughts words, you are not going to like it. Always.
In the UK it is Mother's Day this Sunday (if in the USA do not sweat you have till 11 May 2008 to get it sorted!). The date is not fixed each year as it is based on the middle Sunday of Lent – which in practise means three weeks before Easter Sunday.
This was one of those "pagan" festivals that I could not participate in being a child in the Jehovah's Witnesses . Even though honouring my mother would have been nothing more than giving a gift and a card, rather than slaughtering an animal before the Mother of God. The idea is that anything that has a connection, no matter how loose or how far back in antiquity, to worship or honouring of other gods than Jehovah must be avoided as if your life depends on it.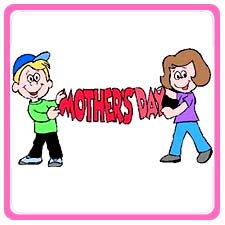 Which incidentally you think it does when you are a Jehovah's Witness. Especially as a child because you would consider an affront before Jehovah worse than being particularly nice to your Mum on a day "unbelievers" have chosen for that purpose.
To give an example of how that alienates you as a child, when I was having a hair cut the hair dresser asked me what I was doing for Mother's Day. I tried to be evasive but he persisted and got quite mad at me when he insisted that I buy my mum a card. At one point I feared my ears were going to be cut off as the scissors snipped away ever more quickly as he talked.
Then there was school where we were asked to write a poem for Mum on Mother's Day. Thankfully I got around that by writing a poem that did not contain Mothering Sunday etc – just a general poem that you could give your mother whenever.
The issue is that I had to be careful – not only because my mother would notice any faults of mine with regards to faith. The ultimate policeman watching me was Jehovah and I really wanted to please him, and I was thankful I knew how to. Saddened that no one else seemed to be so keen to know or learn that which the Society taught.
A child does not know any better and will follow whatever seems to please those in authority in order to avoid sanction and get gratification. But I had my own reasons that went beyond that – I really believed that the generation alive in 1914 was going to be around when Armageddon came. The elders and Watchtower publications said that during the 1980s. I thought they knew what they were talking about. I wanted to live; I wanted to be a survivor, and I believed what the adults that I spent most of my time with told me.
Some things in the past are easily left behind, but not forgotten. Because how you behave over Christmas, birthdays, Easter, Mother's and Father's Day is a cause to divide you from other kids – and those outside your faith. It is used as an example that they are "bad associations" that do not know the way. I can assure you that the Society does not make up for children with the lack of fun unless you get a sense of justice done when the end of the system of things comes and kills everyone you ever knew outside the Kingdom Hall.
Frankly that terrified me that most people were going to die, and would be fighting God's people till the battle was won. Such are the visions that get put in your head, and that 100% conviction in what the Society, and only what the Society tells you, will save you when Jesus comes back.
On that note going to write out my card. My Mum seems to be going through a desire to see environment disaster movies. So this weekend a triple bill of "Twister", "Deep Impact" and "Dantes Peak" on DVD - my gift to someone who matters every day but especially on Mothering Sunday.