The England Squad for the World Cup, ranked 6th in the world, came third. It is the best result by a football squad since 1966. The Lionesses have done us proud. The backstory for many of them have been inspirational. Fara Williams, who was homeless for six years, but still pursued her goal to be a professional footballer. Katie Chapman who was dropped by the FA because she wanted time off to look after her children, but did not let them stop her. Casey Stoney as captain coming out as gay. Among the ranks: lawyers, business owners – professionals on the field of play and off.
The official England twitter account did not reflect that at all when they prepared to go back home.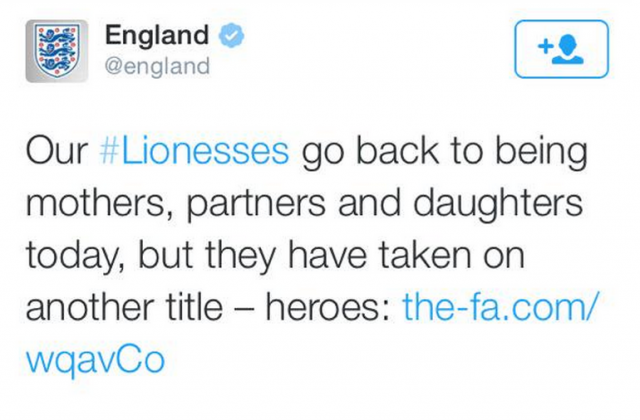 A patronising, sexist and undermining tweet or a reflection that after fifty days intensive coaching, training and playing they would be reunited with loved ones?  Twitter has been full of derision mostly reacting to the tweet as the former, and the tweet was deleted. However, I wanted to focus on one exchange which caught my eye.
Ricky Block (name a giveaway for a troll account) was called out for their language and views:
Achievements are to be celebrated, heroes are to be congratulated, loud mouth bullies taken down. No doubt the team will enjoy spending more time with their loved ones now the tournament is over. Just take care how you tweet these things, without being patronising at best, sexist at worst.
Perhaps one day we will win the world cup.
Maybe when we do, it will matter that it is England – not whether it was the men or the women.
Article written by John Sargeant on Homo economicus' Weblog
Follow @JPSargeant78
Email: JSargeant78@gmail.com